Custom Name Badges and Name Tags
When you consider starting your business, you're likely not thinking about the smaller details. After all, why would something as small as personalized name tags be so important to your organization? You might be surprised at how substantial they truly are within your business!

Whether you're a large corporation, a small business owner, a healthcare facility, an educational organization, or otherwise, LoneStar Badge and Sign has what you are looking for in personalized name tags.
Additional Badges and Supplies
No matter your business type, a school, university, corporation, medical facility, bank, or gym, we're sure to have the perfect custom name badge style, design, and ordering process to fit your needs.  All of our personalized custom name tags and name badges are made in house right here in Texas and are typically ready to ship in one business day.  Choose from a magnetic back or a pin, clip, strap, or lanyard.
Name badge ordering has never been so easy!  Especially reordering previous designs.  To get started, let us design for you, feel free to use our design studio to customize your badge from scratch, or choose from one of our many pre-made design templates.  Once your design is finalized, we'll save it in your account so you can reorder it anytime by simply entering your new name names, titles, and photos.  Whether you're placing a reorder or a new order, you'll be able to see your design preview before placing your order.
We have so many options to customize your employee badges to meet your every need.  Feel free to contact us if you don't see exactly what you're looking for and we'll see what we can do!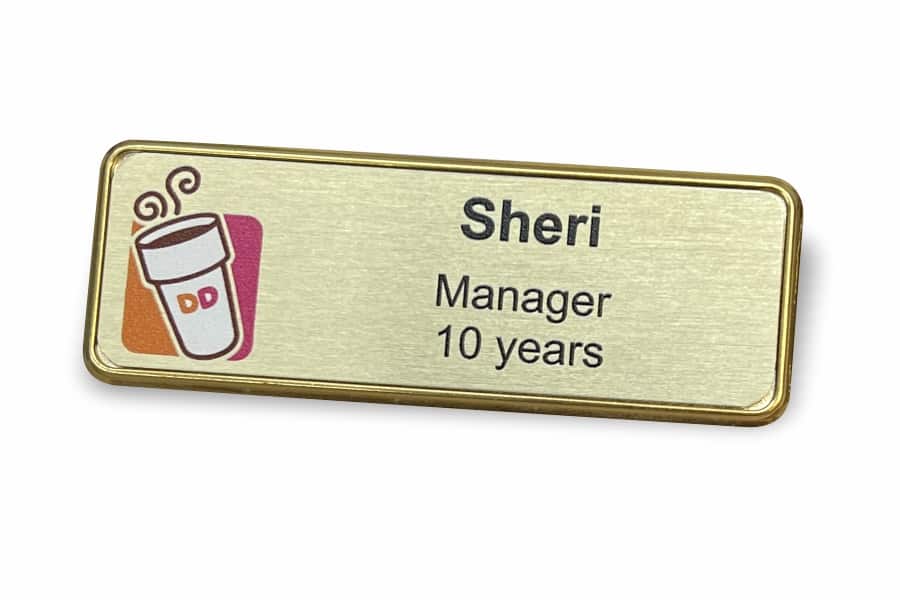 The Importance of Name Tags
Creating a personal connection with everyone that walks through your door is extremely important, and addressing someone by name is the first step in making that connection. With custom name tags, you don't have to worry about memorizing everyone's name, especially if you work in a large company. It allows you to be more personable and relatable to whomever you're speaking to without the stress of memorizing a ton of names. 
Plus, you might be surprised at how many industries need badges for other reasons, like safety! For example, many schools and other educational institutions use personalized name tags for things like school badges for each student or for reusable visitor passes. These badges are an easy way to let faculty know who is supposed to be in the school and who isn't! 
Personalized name tags are also wonderful for offering a sense of belonging. With a personalized name tag, it's almost like you have an official sign that you're an employee, a student, a consultant, or another part of the company. It gives you the proof that you're supposed to be there, and for companies to be able to provide you with that, it's a great feeling. 
What We Offer
Whether you're interested in something more professional like custom engraved badges, or something more easily customizable like printed inserts for plastic badges, LoneStar Badge and Sign can help give you exactly what you want. We offer an incredible range of options for you to choose from, like acrylic name badges, custom engraved badges, and more. 
If you're not interested in using any of our premade options, we can also assist you with creating badges with our custom ordering process. Our digital cutter can cut various materials, like wood, vinyl, foam, aluminum, and more. The only limitation that we have is your creativity for what you want!
Ordering With Us
From personalized name tags to custom event badge printing services, LoneStar Badge and Sign can help you figure out what's best for your company. We strive to make it as easy as possible for anyone to order through us and get exactly what they need for their business. 
Whether you're ordering custom engraved badges for your managerial staff or reusable visitor passes for your educational institution, LoneStar Badge and Sign has you covered. Contact us today to request a quote for our services or a sample of our products to see how we can best serve your needs.