Badge Accessories
Using name tags and badges at your business to promote professionalism and structure is essential for any organization looking to grow. At a large corporation, name tags and badges can also help clear up confusion and improve interpersonal communication. Accessories for these badges can make things at work even better, such as the use of a retractable badge reel. 
At LoneStar Badge and Sign, we are committed to providing you with the best quality products and services to make your business more professional. We offer a variety of badge accessories that you can pair with your name badges and name tags, allowing you to display your information with even more convenience and style.
LoneStar Badge and Sign has everything you need to accessorize your name badges and name tags.  Whether you need replacement badge magnets or other fasteners, or you would like expiring badges for your temporary guests and visitors, we've got you covered!
Choose to pair your employee photo ID badges with a retractable badge reel or lanyard, as well as a vinyl badge holder.  All these badges accessories make great additions for your employees, medical staff, students and teachers, or conference and trade show attendees.  Contact us if you have any questions on which accessories will be right for your name badges.  We're happy to help!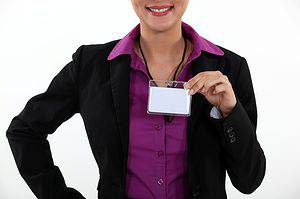 Badge Accessories For Any Budget or Business
Carrying your ID badge or name tag around can be a substantial inconvenience. The badges may get misplaced, lost, or ruined if stored or displayed without certain accessories. Utilizing badge accessories can extend the lifespan of your badges, allowing you to use your name badge for years to come without any issues. LoneStar Badge and Sign is proud to offer a variety of accessories to fulfill your professional needs:
Name badge holders
Retractable badge reels
Name tag lanyards
Name badge ribbons
Fasteners and supplies
LoneStar Badge and Sign has every possible accessory you might need for your name badges and name tags. These accessories make great additions to your name badge.
Retractable Badge Reels 
One of our clients' favorite accessories is the classic retractable badge reel. Attach the reel to your t-shirt pocket, belt, sleeve, or pants pocket with a clip and use it whenever you need to. This will prevent you and your employees from losing your badge, which can easily fall out of your pocket when you pull your phone or wallet out. 
Attaching your badge to your clothing makes it much more difficult to lose your badge. The retractable badge reel is also incredibly convenient. It allows you to extend the badge from your body to show ID or swipe on a machine, then slide right back to its original position. 
Lanyards
Another great accessory to have is the name tag lanyard. Lanyards are especially handy when you need your ID badge or name tag at hand and on display. The lanyard can easily be attached to your badge and hung around your neck. Our cotton lanyards are especially comfortable and lightweight.
We offer a variety of styles and colors to suit your brand identity, including plain stock, pre-printed stock, and custom printed lanyards. With these customizable features, you can imprint your company's logo or text across the lanyard. No matter what you're looking for, you're sure to find what you need from LoneStar Badge.
Our Dedication to You
At LoneStar Badge and Sign, your satisfaction is our number one priority. We strive to provide you with the highest quality products and services. With over 40 years of experience, we know that each individual's story is different, which is why we strive to create a product that reflects you and your values. We have everything you need to improve your professionalism with high-quality badge accessories.