Desk and Wall Name Plates
Certain items can make your job feel just a little more official. Some people love having an official custom name tag as their official symbol, some love being able to change their email signature, and others enjoy changing their status on LinkedIn. For others, however, receiving custom name plates for their doors or desks really seals the deal.
Having custom name plates to denote a specific staff member's space, whether that be an office, a desk, or a cubicle, can help give your employees a sense of belonging. This is their space where they can make their own, decorate how they want, and give it their own personality. Being able to provide them with custom name plates is a gesture from the company, letting that employee know that they're here to stay.

Name Plate Mounting Options
Just as name badges are an excellent way to identify employees, customized name plates are a great way to identify employees' spaces.  Name plates can make a great addition to your desk, office door, or wall.  Custom engrave your name, title, and logo on or choose one of our full color printed designs.  Slide-in wall mounted metal name plate holders and desk holders are available, along with cubicle mounting pins and wooden desk wedge blocks.  Custom design your personalized name plaque today using our designer studio and pre-made templates, or feel free to contact us for tips or assistance with the design process.  We're here and happy to assist any time!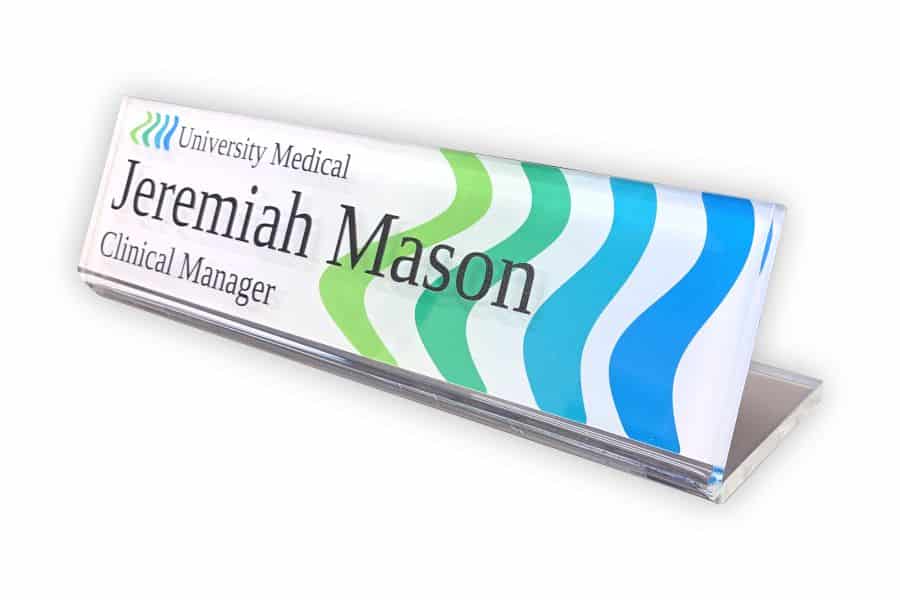 LoneStar's Custom Name Plates
LoneStar Badge and Sign understands how even a small gesture like a custom name plate for an employee can make a difference in morale, and boosted morale in the workplace is always good for both employees and the business itself. Because of this, why wouldn't you want to ensure that you have the nicest options available for your employees? 
Here at LoneStar, we have a wide array of options to choose from when you're considering purchasing custom name plates. We believe having all the choices you can imagine at your fingertips is imperative because who knows your company better than you?
We offer an amazing custom acrylic name plate option that you can customize to your heart's content. The acrylic name plate is lightweight, durable, and perfect for any professional setting. If you're interested in something a bit more elegant, then our custom metal name plates are what you should be on the lookout for. These plates come in gold, silver, or white and can be engraved with nearly any name, image, or title. 
Finally, our custom engraved nameplates are basic plastic plates that can pack a punch. While they may not be as colorful as other options we offer, they're still a fantastic value for any desk or office mount and make for an incredible gift.
Ordering With Us
For over 40 years, LoneStar Badge and Sign has taken pride in being able to serve our clients with high-quality products and top-notch customer service. We strive to make the ordering process as easy as possible for all of our clients because we understand how stressful making large corporate orders can be. 
We offer a wide variety of prefab designs that you can choose from or create your own using our designer studio. Whatever you decide to do, know that LoneStar Badge can do it for you. From basic plastic engraved name plates to custom wooden designs, LoneStar badge can handle it all.
If you're interested in working with our company, contact us today to request a quote!