Corporate Services
If you're a large corporation, trying to find a reliable company to purchase custom name badges, signs, and graphics from can sometimes be a challenge. Not only do you want to find a company that can provide you with a high-quality product, but you also want to ensure that this company can meet all your design and production needs. For a large corporation with multiple locations, this can be a difficult task.
With LoneStar Badge and Sign, you don't have to worry about any of that. When choosing LoneStar Badge, you know that you're getting the best quality product with top-of-the-line service that caters to your business needs.

What is LoneStar's Corporate Ordering Service?
Is your healthcare facility looking for a streamlined way to order new name badges?  Does your university want to spruce up its space with floor graphics, signs, or security badges for faculty?  Is your multi-location bank searching for professional, polished name plates or business cards?  Are you a trade show organizer shopping for personalized lanyards and badge accessories for your upcoming event?
Whatever industry you work for and whatever products you need, LoneStar Badge & Sign has a streamlined system available for your ordering needs.  We can custom design a corporate ordering portal and implement industry-leading solutions make it easy to order name badges, signs, and other custom products online just the way that works best for you and your team.
Check out this video to help you learn more about our corporate ordering services and feel free to contact us if you're ready to get started!
Corporate Ordering Options
Multiple Location Ordering Portals
LoneStar handles name badge ordering for nationwide accounts daily.  If you have a multi-location corporation with several locations, we can provided a personalized portal to order employee name badges.  The portal can be accessed in a number of ways:  by anyone in your company who has the portal link, or a login verification can be required by each person using their email address or by each location using a dropdown selection menu.
Unlimited Products and Options
We offer a huge selection of personalized badges and can customize the perfect badge style for your company.  In addition, badge design and/or option can be further customized based on the person or location who is ordering.  This can include different fasteners, different sizes, styles, or colors of the badges, along with custom text like an option to that an employee speaks Spanish in certain regions.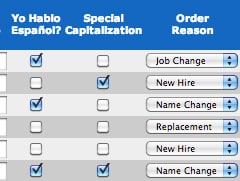 Customized Billing
Not every business wants to order and pay for name badges in the same way.  The most common billing solution is electronic summarized billing sent once per month to a centralized billing location.  However, while this may work well for some corporations, others like a university may prefer to have students or faculty pay for their own individual orders at checkout.  Whatever the billing needs, we can accommodate the payment and invoicing solution that works best for your team!
Reports of Every Kind
Reports and statistics on which store orders the most badges, or even which employee orders the most badges, can be beneficial in finding out what ordering restrictions need to be set in place to prevent over ordering. You can also view live reports that show the status of an order and what department it is currently in.  Pull reports right from a designated admin account anytime for any given time period.  Everything you need to know is available on demand!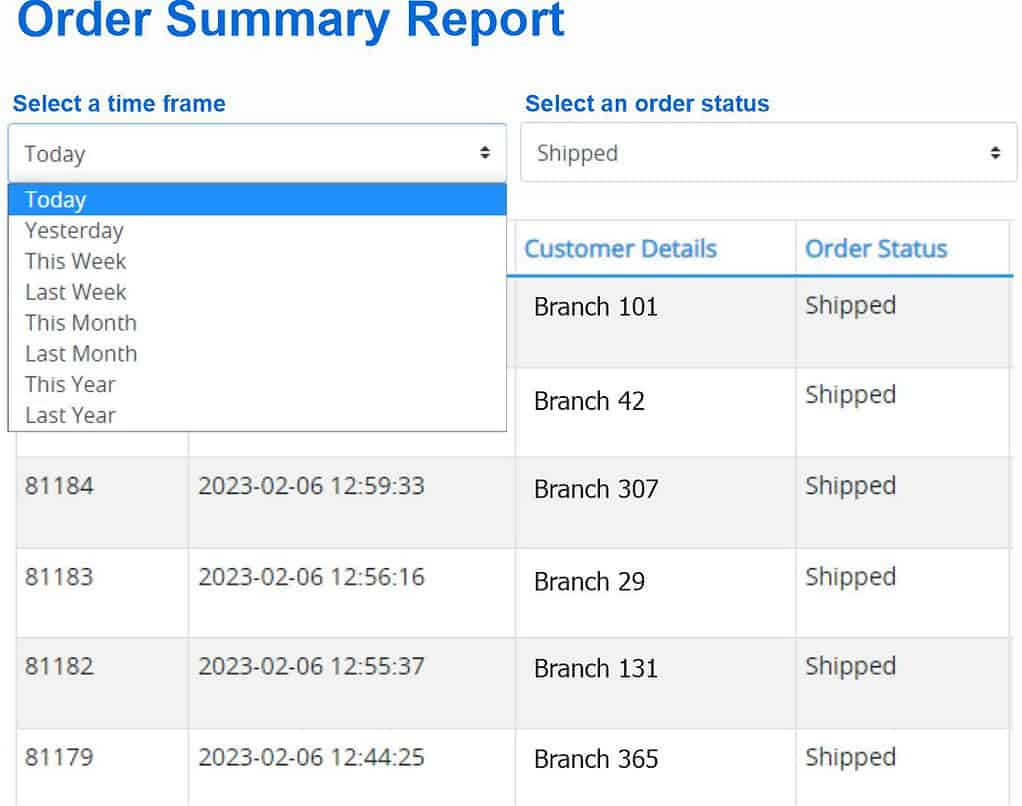 Let us know what ordering, billing, or reporting requirements you have, and we'll create a custom ordering system just for you at no cost, while still offering affordable and competitive personalized name badge prices. Contact us today!
LoneStar Badge and Sign Knows What You Need
For more than 40 years, LoneStar Badge and Sign has devoted itself to providing only the best for our customers, whether corporate clients or small business owners. Our team combined has a whopping 100-plus years of experience in the field, and we can bring all of that knowledge to the table when serving your business needs. 
When you work with LoneStar Badge, the sky's the limit. Whether you're looking for custom name tags for each employee or custom name plates for your executives, you can order them all in one convenient location. We have various options to choose from and can even help you create custom lanyards and badge accessories for your business. 
We can help you with even the biggest custom projects; everything from customized airplane parts to magnets can be created here with LoneStar. Whether your request is big or small, we can handle it all!
Play by Numbers
Being in this industry for as long as we've been, we understand how important knowing the numbers can be. Because of this, we can help you customize your ordering system in a way that makes the most sense for you and your business. 
At LoneStar, we know that ordering custom name badges can vary from department to department, from student to teacher, and more. We also understand that not every company will pay for their custom name badges the same way. Because of this, we can help you customize your business's ordering system to what works best for you. 
We can also update you with live ordering reports. LoneStar can provide updates on what store orders the most badges, what employee orders the most badges, what the order status is, and more. This information can help you make better determinations on any kind of ordering restrictions or guidelines to put in place. We want to make it easier for you to know what's happening in your business and control what's being spent, by who, and on what products.
Ordering With Us
When you order with LoneStar Badge and Sign, you know you're getting the best of the best. Whether you're ordering custom name tags for your employees, custom name plates for your executives, business cards, signs and graphics, or something else more unique and involved, you can count on LoneStar to help you out.