Corporate Services
Let LoneStar streamline your ordering process and make name badge purchasing for your multi-location corporation efficient and stress-free!
What is LoneStar's Corporate Ordering Service?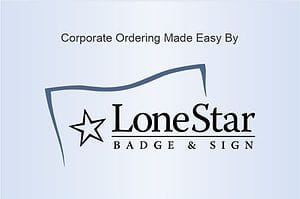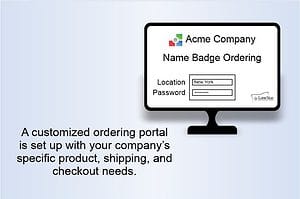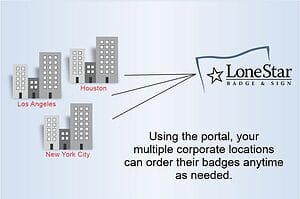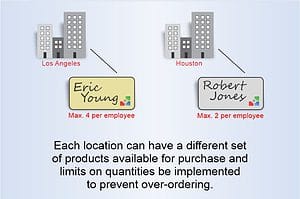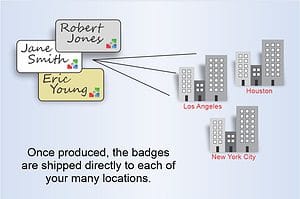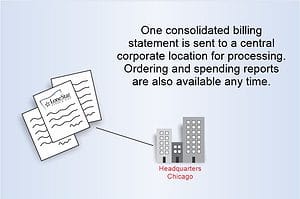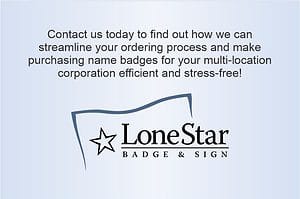 Multiple Locations
LoneStar handles name badge ordering for nationwide accounts daily.  If you have a multi-location corporation with several locations, we can provided a personalized portal to order employee name badges.  The portal can be accessed in a number of ways:  by anyone in your company who has the portal link, or a login verification can be required by each person using their email address or by each location using a dropdown selection menu.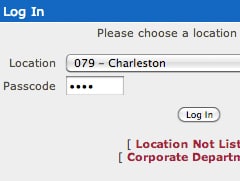 Unlimited Options
We offer a huge selection of personalized badges and can customize the perfect badge style for your company.  In addition, badge design and/or option can be further customized based on the person or location who is ordering.  This can include different fasteners, different sizes, styles, or colors of the badges, along with custom text like an option to that an employee speaks Spanish in certain regions.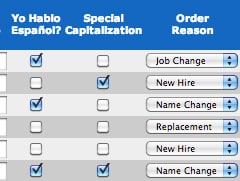 Customized Billing
Not every businesses wants to order and pay for name badges the same way. While a normal office with several locations may be able to place orders by store managers, a school or college may need to order badges for both students and teachers, and have students pay separately, while the department pays for professors. In this way, our ordering system can be tailored to meet any billing requirements.

Reports of Every Kind
Reports and statistics on which store orders the most badges, or even which employee orders the most badges, can be beneficial in finding out what ordering restrictions need to be set in place to prevent over ordering. You can also view live reports that show the status of an order and what department it is currently in. 
Let us know what ordering, billing, or reporting requirements you have, and we'll create a custom ordering system just for you at no cost, while still offering affordable and competitive personalized name badge prices. Contact us today!
Is your healthcare organization looking to buy new badges?
Does your educational institution want to spruce up its space with new floor graphics or signs?
Is your financial company searching for professional, polished name plates or business cards?
Are you a trade show organizer shopping for personalized lanyards and badge accessories?
Whatever kind of organization you work for and whatever you need, you'll find it at LoneStar Badge & Sign.  Our corporate ordering portals and industry-leading solutions make it easy to order name badges, signs, and other custom products online.
Ready to get started?
We know our corporate ordering services and online ordering portal can help make your life easier and eliminate the headaches that can come with ordering customized products – now it's time to experience it for yourself!  Contact us today to find out how we can help.