Reusable Name Tags and Badges
A professional business with structure and guidelines never ceases to impress other colleagues, or those who come as clients. Professionalism is vital in the workplace, and having your staff look the part goes a long way. One great way to implement a level of professionalism within your organization is by having staff wear reusable name badges. Giving your clients a way to speak to each employee by name can offer a more professional and personal service.

Regardless of the size of your business, whether you're a small business owner or a large corporation, it is never too late to implement a professional touch-up for your team. At LoneStar Badge and Sign, we are committed to providing you with quality, customizable products, and outstanding services, making complex ordering processes a breeze. We also offer desk and wall name plates, signs, graphics, and more!
Order reusable label badges, reusable window badges, and blank badges online. These reusable name tag styles, including reusable name badges, are an economic and long-lasting alternative badge solution for large companies or corporate events as they can be used over and over again. Let us digitally print, sublimate, engrave, or hot stamp your company's artwork on the badge, then you're able to quickly and easily change out the name on the badge when needed.
Use the provided paper insert sheets to print your own names and slip them into our window badges, or use your label maker to apply adhesive labels to our label badges or blank name tags. We have magnetic and other fastener options available, as well as many size and shape options. Select styles are available without minimum order quantities, and all styles offer quantity price discounts for ordering in bulk. Contact us today for a free proof before you place your order.
If you prefer to order a reusable name tag or photo ID badge that's customized with your employee's information, also check out our selection of Personalized Name Badges. And, don't forget to order your employees a corresponding Name Plate for the office door or desk!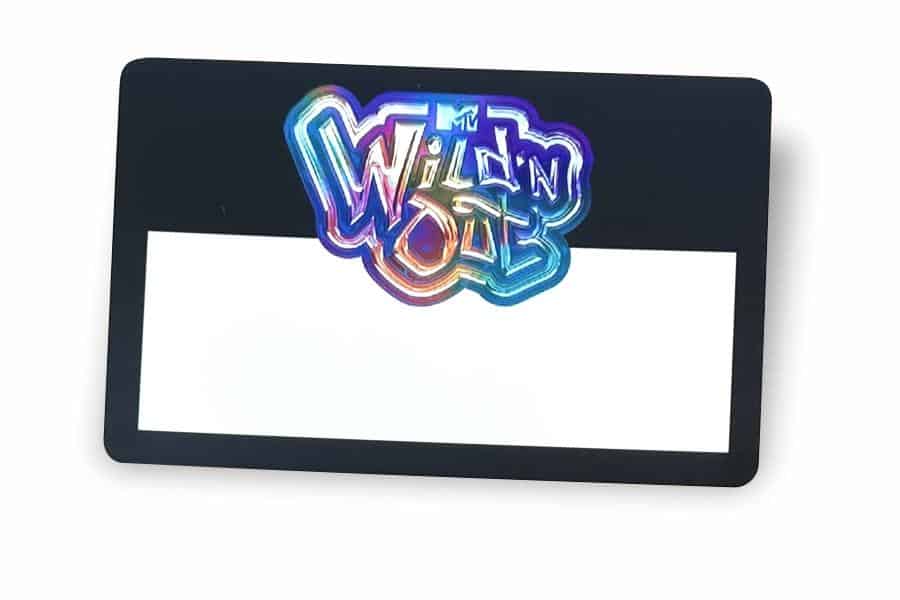 Benefits of Reusable Name Tags and Badges For Your Business
There are many good reasons to implement reusable name tags and name badges in your business. Customizable badges are a great way to raise awareness about your brand while building trusting relationships with clients. And the best part about choosing reusable badges, such as reusable name tags and reusable name badges, is that they can be used again and again. Simply replace a previous employee's name label in the window or label slot, and the badge is brand new once again.
Building Relationships Between Clients and Staff 
The most significant benefit is the improvement of customer relations. It is important to maintain an approachable staff when dealing with clients on a daily, face-to-face basis. Having label badges or window badges, including reusable name tags and reusable name badges, with your company's logo and the employee's name clearly displayed can help break the ice, allowing your clients to feel more comfortable communicating with your friendly staff.
Improve Staff Relations 
Reusable badges, such as reusable name tags and reusable name badges, may also help to increase communication between staff members. Sometimes, introducing new members to the team can be a little awkward, and equipping the team with reusable badges will make it much easier for them to greet each other. It will also help everyone remember each other's names, which can sometimes be difficult at large corporations or businesses. Adding preferred pronouns or nicknames on the badge can be a great idea as well. A closer-knit team may increase workplace productivity and job satisfaction.
Develop a Professional Brand Image 
Reusable name badges, including reusable name tags and reusable name badges, with your company logo or branding provide a sense of unbeatable professionalism. People entering your establishment will be able to tell apart those who work there from those who don't due to the name badge, sending a clear message and giving the establishment a structured look of unity and professionalism. Branding will give your clients more confidence in the reputability of your business.
LoneStar Badge and Sign Services 
We offer many services at LoneStar Badge and Sign, including custom name badges and name tags. These include:
Photo ID Badges

Metal name badges

Engraved name badges

Heavy duty badges

Label badges

Window badges

Blank badges
With so many options to choose from, these reusable badges will give you the structure and professional look you want. They are easily customizable, giving you the ability to turn your branding dreams into reality. See what we can do for you and your brand image with our wide selection of name badges and other services. 
Our Commitment
At LoneStar Badge and Sign, we are here to provide you with all sorts of ID products that can help transform your business and take it to the next level of service and professionalism. Offering the highest quality products and services, we strive to make your happiness and satisfaction our top priority. Let us help you create a product that directly reflects your goals, values, and direction.