Follow These Steps to Order Your Custom Name Plates!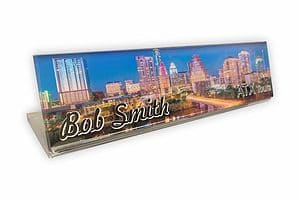 Name plates play an important role in a professional setting. You can place them on desks, walls, or doors to indicate where a person's office is, who sits in a given cubicle, and welcome visitors to your office.
Desk name plates are specifically intended to place on an individual desk. Large corporations, hospitals, and educational institutions are some of the organizations that benefit from desk name plates. The plates identify who's who in the office and also give staff and visitors clarification about the roles of different personnel. Plus, with the customization options available with LoneStar Badge & Sign, your team can use their name plates to express their personality and show off your organization's branding.
Ready to order some name plates of your own? Our friendly, experienced team will guide you through each step, and they're happy to answer any questions along the way.
Here's how to order your custom desk name plates:
Figure out how many name plates you'll need
When you call LoneStar Badge & Sign or visit our online store, one of the first questions we'll ask is about the number of name plates you need. Do you have a few new employees who need a desk name plate? Maybe you have several employees who recently received promotions and their titles need to be updated.
Depending on the size of your company, you might even consider upgrading name plates for the entire building instead of just a handful of people. Be sure to get an accurate count of how many desk name plates you'll need so your final order is correct.
Pick the type of insert and holder you want
The material a name plate insert is made from tells its own story. At LoneStar Badge & Sign, we offer acrylic and metal inserts to help express your organization's brand and give off a cohesive, professional look. If you're interested in using a different type of material for your desk name plates, we can handle that as well with our new custom project capabilities!
For mounting, you can choose from a variety of slide-in metal holders for your desk. You can also decide to skip the insert and select an all-in-one freestanding acrylic desk name plate. Thinking about the look you're going for, and your company's overall décor, will help you decide.
Create a design
Designing new custom products is always fun! Some of the design options available to you in LoneStar's online design studio include:
Size
Font (style and color)
Corner shape (square or rounded corners)
Color (background and text)
You can customize your name plates with your company logo, photographs, graphic backgrounds, text, and more. With our technology and expertise, virtually no idea is out of range! Let us know what you're thinking, and our team will help you bring your design to life.
Place your order
We make ordering easy! Once you've created your design in our online design studio or let us know that you'd like design help, confirm that the size and quantity of your name plates are correct, then add your order to your cart. Check out, and we'll get to work!
If you have questions or issues at any point, our team is happy to help. You can send us a message through our Contact Us page or by clicking the blue word bubble icon in the lower right corner of any page to open a new help chat.
Display your new name plates
This is the easiest step of all! Give your new desk name plates to your team and let them show off their new custom products to the whole office. Just don't be surprised if everyone who didn't get a new one in this order wants one!
Bring your brand to life with custom desk name plates
Desk name plates do more than simply identify an individual. They help reinforce your company's brand throughout the building. Whether you need one or 100, visit our online store to shop our selection of desk name plates and place your order today!