Learn best practices for ordering name plates in this blog post.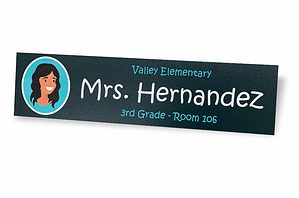 Adding custom name plates to your office space creates a more professional atmosphere for your employees and clients. They make it easy for visitors to find the right office and person as they explore the halls of your business.
In this post, we'll share some top tips that will get you thinking about who needs one, what type to order, and how you can allow your employees to show off their unique personalities with custom name plates.
If you are thinking about investing in new name plates, here are a few things you need to keep in mind:
Audit which employees need one
Figure out what type to order
Remember to order mounting or holders
Choose your design
Add personal flair
Read on to learn more about the steps we recommend taking before you place your order to make sure you are getting the best custom name plates for your organization.
Audit which employees need one
Maybe you like the way your name plates look and don't want to change the design, but you haven't ordered new ones since a group of new employees has come in. Or maybe your entire office is due for a refresh.
Either way, regularly go through and decide who needs one — you don't want a new hire to feel left out because they don't have a name plate yet!
Figure out what type to order
How is your office arranged? This plays a big role in what type of personalized name plates you should order. Employees who have their own office may want their name plates mounted on the door, or on the wall outside of their office.
On the other hand, a desktop name plate may be the better option if two or more employees share an office space, or if you have an open-concept office.
Remember to order mounting or holders
In addition to your personalized name plates, you also need to be aware of how you are going to display them. Don't forget to add essentials to your order, such as mounting or holders!
Choose your design
There are tons of fun design ideas that will allow you to customize your name plates to match the décor of your office or your employees' preferences. You can create a standard name plate, so they all match, or you can allow employees to design their own with creativity. Some ideas include:
Adding splashes of color
Including a photo or a piece of artwork
Adding shine with metal name plates
Creating a 3D effect with acrylic
Choosing your design might just be the hardest part of ordering your personalized name plates! If you need some design help, the design pros at LoneStar Badge & Sign are happy to assist.
Add personal flair
Allow your employees to have some autonomy over what their name plates will look like. If they want to display an office nickname instead of their formal name, you should consider allowing this to make them feel more at home in their office. Other examples of personal flair could mean opting for a custom design or a pop of their favorite color.
When it comes to ordering custom items for your employees and office space, make sure you are dealing with experienced professionals. LoneStar Badge & Sign has what you need to make your order quick and easy. Visit our online store to shop our selection of custom name plates or contact us today with any questions!