Engraved name tags are a perfect fit for these settings.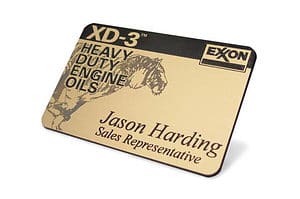 Many different types of businesses can benefit from using employee name tags. They tell customers who is helping them, giving them opportunities to praise exceptional service or file complaints — both of which empower you to manage your staff accordingly.
In addition, name tags can convey information like titles or degrees, or branding elements, including your business name, logo, and more. Metal or even leather engraved name tags, in particular, denote a certain level of sophistication that lends itself to elevating the following types of organizations:
Schools and universities
Fitness centers
Hospitals and healthcare facilities
Restaurants
Retail settings
Financial institutions
Hotels and hospitality
If you want a practical, durable way to identify employees that also speaks to the upscale aesthetic of your brand, engraved name tags are a great custom product to consider!
Schools and universities
While professors and teachers may not wear name tags, this custom product is a great idea for office staff, tour guides, and other service professionals responsible for introducing visitors to the campus. Engraved name tags promote a clean, professional aesthetic that can reinforce the prestigious image of your institution and impress prospective students and parents alike.
Fitness centers
When gym members can address the staff by name, it increases feelings of camaraderie and belonging. Fitness center employee name tags can feature titles or color coding to help differentiate service staff from trainers and include company branding to deliver cohesive and recognizable visual messaging. With engraved name tags from LoneStar, you can add a more high-end feel to your fitness center while ensuring they'll last through years of training sessions, cleaning, and more.
Hospitals and healthcare facilities
It's vital for patients, family members, vendors, and others entering healthcare settings to know who they're dealing with by name and title. Engraved name tags not only serve this purpose but can also convey the professionalism and level of service patients can expect from your facility.
Restaurants
When it comes to running a restaurant, not just any name tag will do. You don't want to invest in upscale furniture, linens, and ingredients but drop the ball by choosing name tags that could come across as cheap. Engraved name tags, especially metal ones from LoneStar, are not only elegant but also durable enough to hold up to the rigors of the fast-paced restaurant environment.
Retail settings
Engraved name badges help employees working in a retail setting appear professional and knowledgeable about the products they're selling. They also provide a visual cue to reinforce a verbal introduction, allowing customers to recognize those who assisted them by name and ensure commissions or other benefits go to the right employees.
Financial institutions
High esteem is essential to operating a successful financial institution, which requires customers to place trust in employees. In addition to a professional dress code and strict standards, engraved name tags lend finance employees an air of prestige and professionalism customers expect.
Hotels and hospitality
There are many different positions in hospitality, from the front desk staff to management to concierge services. Name tags, like uniforms, help to identify different positions. They also personalize the experience so guests can feel like your establishment is a home away from home. With engraved name tags from LoneStar, uniforms get an extra boost of luxury and a high-end feel that will help guests feel welcome.
Not sure which engraved name tag design is best for your organization? LoneStar Badge & Sign can help! Visit our online store today to browse our selection of engraved name tags and design your own, or contact our team for assistance.