Make sure the timing is right for your signage installation.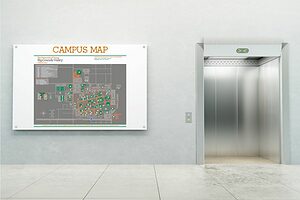 You've put a lot of thought into the design of your indoor and outdoor signage. Whether it's to welcome students back to school, announce the opening of a new business, or warn customers about construction detours, installation timing is as important as the message itself.
Choosing the right time to install your indoor and outdoor signage can help the process go more smoothly, help you avoid inclement weather, and make sure students or employees of the organization where you're installing the signs won't be in your way.
There are several factors to consider when deciding the best time to install a sign. Weather, traffic flow, and holidays all influence the amount of impact your custom products will have.
However, there isn't a one-size-fits-all solution for signage installation. Different types of signs are needed and get more attention at different times of the year.
Popular times to install signage include:
School signage — before and during breaks
Outdoor signage — during warmer months
Corporate signage — over weekends/holidays
New construction signage — while a building is being remodeled
Let's dive into why these are the best times of year to install your indoor and outdoor signage!
School signage — Before and during breaks
Schools have a lot of information to relay to students, staff, and parents. When students take a break, it's time for those in charge of signage to get to work. This allows installers to have the campus or school mostly to themselves, so they can take their time and not worry about anyone getting in the way.
Taking advantage of school breaks also allows everyone to come back to refreshed signage, whether that's updated permanent signage as part of a school renovation or temporary signs welcoming students back or alerting them of upcoming events. There are many opportunities throughout the school year to remind the student body about special events and important due dates and to leave encouraging messages that boost morale.
Outdoor Signage — During warmer months
When signage for your business or event isn't time sensitive and you live somewhere where the temperatures can drop below freezing, wait until winter is over for installation. It will be easier to place outdoor signs after concerns about ice and freezing temperatures have melted away, especially if your signage requires placing poles or stakes into the ground.
Corporate Signage — Over weekends and holidays
Healthcare organizations, financial companies, and educational institutions are just a few businesses that depend on signage to keep traffic flowing through their building or help create a more welcoming environment.
Signage installation typically involves multiple locations, indoors and out. The best time to tackle this job is during holidays and weekends — when the building is empty or limited staff is present.
New construction signage — While the building is still under construction
This one may seem like a no-brainer, but the best time to install indoor and outdoor signage in a new building is when construction is underway. Again, this will help you avoid the traffic that comes with a new office building and ensures that the new owners come into a building decked out in bright new signage.
Construction is also a great time to utilize signage to ask people to "pardon our dust." You can use temporary indoor and outdoor signage to let people know alternative routes if elevators, bathrooms, or other essential services are temporarily closed for construction. Install indoor and outdoor signage as needed to increase safety and eliminate confusion.
Organizing successful signage installation takes thought and planning. The pros at LoneStar Badge & Sign are here to help you with all aspects of indoor and outdoor signage design and installation. Visit our online store to start designing your next sign project!