Learn how this small addition can make a big difference to your office decor.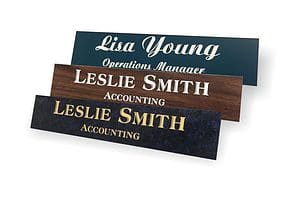 Office door name plates might seem like small, insignificant details in the larger scope of a workspace with so much hustle and bustle going on. However, little details like these can make a world of difference in the work environment!
At LoneStar Badge & Sign, we pride ourselves on a deep understanding of the small things that truly transform the way companies do business and connect with clients, partners, and their employees. We compiled a list of the top reasons we believe businesses should invest in office door name plates for each employee:
Newcomers will have a better sense of direction
Your workspace will have a more cohesive design
Your company will have a stronger sense of brand
Employees can get creative with their space
After exploring these reasons, you might be convinced to place a corporate order for office door name plates with LoneStar. We also offer a variety of other custom branded materials to choose from that could boost your sales, improve the workspace environment, and more!
Newcomers will have a better sense of direction
When visitors enter your office, their ability to get situated and find what they're looking for can affect their perception of your company and their experience in your office.
If information like who works where and where to find assistance isn't readily available for visiting clients or partners, it can reflect negatively on your brand. Additionally, who wants their new hires to be confused and flustered on their first day? Clearly labeled office door name plates can help to prevent these situations.
Your workspace will have a more cohesive design
A well-decorated office can help your employees enjoy a stronger sense of home away from home when at work, which significantly improves company morale. This also means that your office will have better appeal to visitors, whether that be employees' family members, potential hires, or new clients of your business.
Your company will have a stronger sense of brand
A strong sense of brand is crucial for any business, no matter your product or service. While your brand should be outward-facing and palpable in your advertisements and other marketing materials, a truly strong brand identity starts in the office.
Well-designed office door name plates are custom products that feature your brand's logo or other recognizable images associated with it. They can help to strengthen that sense of brand from the inside out.
Employees can get creative with their space
There are many ways in which employees can let their creative side show at the office, and customized office door name plates are a great way to do so. Whether you want to include company-specific branding on the plates or not, there are still many details that you can allow your employees to customize to their preferences.
Designing custom office door name plates could even be a fun activity the office does together! 
There's no time like the present to improve your office décor and strengthen your brand identity. At LoneStar, we make it easy with a huge variety of ways to create custom products. Visit our online storefront today and shop our extensive selection of office door name plates ready to customize!