Learn how decals can make an impression at your business.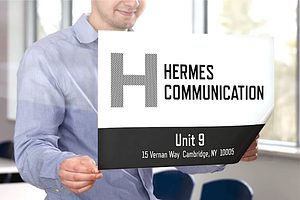 Vinyl window decals make a professional and easily interchangeable marketing statement. Applying high-quality decals to your storefront or vehicle windows offers an inexpensive way to spread the word about your business and any sales or special events you may have going on.
With temporary and permanent options available, vinyl decals add versatility in promoting your brand, business hours, contact information, logo, or seasonal campaign. A bold, colorful, and well-designed vinyl decal makes your business stand out by attracting attention from existing and potential customers.
Let's discuss how to design and use vinyl decals that highlight your message and build your business.
Know the size of the space you're working with
The size of your vinyl decal depends on its purpose, and the place you plan on applying it. For example, if you're looking for a permanent fixture like a logo or your store hours, you'll want a different size than a decal advertising a big sale or promotional event.
Large-scale vinyl decals can combine privacy with design, enticing customers to look at your storefront while keeping them from seeing too much inside.
Choose your colors carefully
If your vinyl decal is full of color and no glass from the window shows, you'll need to put enough contrast into the design to allow any words to stand out from a distance.
Similarly, if your decal uses the window as its background, light and bright colors work best to make it readable against a dark window. If the decal is indoors, a dark-colored decal really pops under bright lights.
To ensure your vinyl decal provides enough contrast to stand out while still being attractive and engaging, use an online design studio (like ours, hint hint!) to view your graphic before printing.
Make sure your design is readable
Will glare from the sun or darkness from cloud cover affect your decal's visibility? Does your font make some letters illegible? Does its size make it easy for your customers to read?
Taking color, contrast, font, and size into account will ensure your decal provides the intended draw, as well as a clear message.
Use an application squeegee
Air bubbles and wrinkles instantly detract from a vinyl decal, no matter how amazing the design. However, a careful and methodical application using the right tools — including a squeegee — helps produce a clear, professional look.
An application squeegee lets you smooth wrinkles as you apply the decal. Once the decal is on the window, using the squeegee again eliminates bubbles. Always press out from the center of the decal to the edges. You may need to cover the squeegee with a towel to prevent scratching the graphic.
Work with a pro team like LoneStar Badge & Sign
A vinyl decal is your message to the world about your business, so using a professional team you can trust to create your decal is crucial! Reduce your stress by going to the top team for making decals and signs.
LoneStar Badge & Sign offers decades of experience, high-quality tools and technology, and unsurpassed service to make sure you're happy with the end product.
Check out our vinyl decal options in our online store, and contact us with any questions you have about using decals at your organization!