Add some flair to your team's name plates.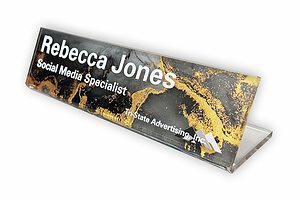 Custom name plates are a mainstay of workplaces everywhere, typically identifying the name and title of the person who works in that office or cubicle.
However, they don't have to be your boring, run-of-the-mill name plates – you can liven them up and make your company's office a bit more fun in the process!
If you are considering updating your company's name plates, consider these three reasons to try out a new color, materials, or design.
Have fun with color
Choosing a color scheme for your name plates can greatly enhance the visual aspects of your office space.
If you've recently updated your office interior design with new wall colors, furniture, or carpeting, this can be a great time to update your name plate color scheme as well! Doing so can tie the new office interior together and provide a great visual aesthetic.
You can also consider refreshing your name plates with the colors in your logo or company branding to add a sense of cohesion, professionalism, and polish.
Let your team make their name plates their own
Name plates have the added impact of making employees feel at home. If their office has a plate with their own name and title, it has major effects on employee retention and gives employees a sense of belonging within their department and company.
You can take this even further by letting employees choose a custom name plate that features their photo, fun artwork, or a colorful background of their choosing.
Give them a modern update
If your company has been around a while, chances are your name plates reflect that. Refresh the look of your employees' name plates with the modern features we offer at LoneStar Badge & Sign!
You can make the switch to acrylic desk plates, that give a fun 3D effect and allow you to add a pop of color with images, logos, background, and more.
Or polish up your office's look with full-color metal name plates that add some shine to the space and offer customization options like logos, colors, and photos.
No matter what you choose, upgrading your name plates to something more fun and exciting can bring benefits to your organization!
Fun name plates improve employee engagement
Having a fun new name plate scheme in the office can lead to great conversations and improve morale among team members. New employees can also feel more at home with their own name plate and find their away around the office easier when they know where everyone is sitting.
For maximum impact, consider designing something eye-catching, like a full-color acrylic name plate with an employee photo or your company's logo or a sophisticated engraved name plate with your choice of background.
Lonestar Badge & Sign offers custom name plates that can be engraved or printed in full color with a variety of mounting options. Get started designing your own name plates today in our online store!