Don't forget these must-have accessories when shopping for name badges!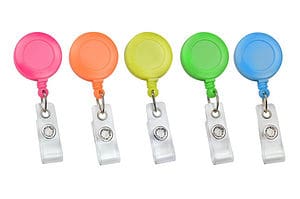 At LoneStar Badge & Sign, we know that it's easy to get lost in the details when placing a large custom order for your business, event, or organization. When ordering name badges, many people overlook the various accessories that go with them.
But it's essential to pay attention to these details! After all, what good is a name badge if you have no way to wear it?
Don't forget about the following name badge accessories when placing your order:
Lanyards and lanyard supplies
Badge holders
Badge reels
Other name badge supplies
Keep reading to learn why you need each of these name badge accessories and why they're worth the investment.
Lanyards and lanyard supplies
Lanyards make it super easy to keep track of a name badge and quickly make sure people are where they should be.
At LoneStar Badge & Sign, we offer a wide variety of lanyards and lanyard supplies for your workplace or event. From solid-color and patterned stock lanyards to custom lanyards bearing your design, we have exactly what you're looking for.
Badge holders
Badge holders are the best way to protect your custom name badges. At LoneStar Badge & Sign, our holders are made from durable plastic or vinyl and come in several different sizes and configurations to best meet your needs.
Whether you need to create VIP passes for a concert or ID badges for your business, you can order the exact size of badge holders you need in packs of 100 to ensure your badges are long-lasting and comfortable to wear. We also offer fabric badge holders for when you need maximum protection and durability.
Badge reels
Retractable badge reels make it easy to use your badge throughout the day without having to remove it from your body. This makes badge reels easier than lanyards to keep track of and use in most work settings, especially if your workplace requires you to scan an ID card for access to certain areas.
At LoneStar Badge & Sign, we go beyond most suppliers to provide a better variety of badge reels. We offer a wide selection of colors and shapes to bring a little flair and fun to a work badge. We can also create custom badge reels to stand out and promote your brand with your logo, graphic, initials, or a unique design that's entirely your own!
Other name badge supplies
The term "name badge supplies" encompasses all of the other useful name badge-related supplies that we haven't mentioned yet. This includes fasteners, pins, magnets, backers, display cases, and more. Basically, if they'll come in handy in wearing a name badge, you'll find them here!
When it comes to name badges, they last much longer when they're taken care of properly. That includes protecting them and making sure they can easily be put on and taken back off. By getting the necessary accessories, you're protecting your investment of custom name badges and ensuring they'll look great for years to come.
Whether you're a business owner or event organizer, you can shop our online store for all of the name badge accessories you need, and contact our team if you have any questions!