If you're looking for the perfect holiday gift for a friend or loved one, look no further than a personalized desk plate. Desk plates are an ideal way to show your appreciation and make a lasting impression. Not only do they look great as decorations, but they can also be customized with your recipient's name, initials, title, and company name or logo to create a truly special present just for them.
Desk plates have been a popular way to mark and personalize one's workspace since the late 1800s. In recent years, advancements in engraving and printing technologies have opened up new possibilities for desk plate design and functionality. These days, name plates are perfect for upgrading an office or home office and the personalization options are endless. So whether you're purchasing something traditional and professional for a banker, something more sleek and modern for an executive, or fun and whimsical for a teacher, there are tons of unique design options available that are sure to make them smile.
Desk plates come in all shapes and sizes. For the office employee who has everything or the busy entrepreneur who needs something special, there's sure to be an option that fits their unique style. They also make great presents for teachers, students, colleagues, and friends, especially if they've recently started a new position or been given a promotion. However, anyone with a desk or workspace would surely appreciate having this creative and custom item to display. Plus, if engraved or printed properly, they can last for years to come. From classic wooden desk wedges to colorful acrylic or long-lasting engraved designs, here are some tips on how to choose the right desk plate for your friend or loved one's space.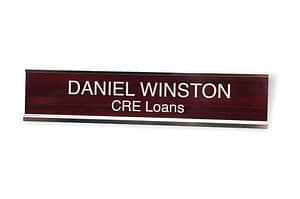 One popular option is to opt for a personalized desk plate with the text and design engraved into it. This style adds a touch of professionalism while still feeling warm and inviting – perfect for executives in an office setting. There are many traditional backgrounds available such as brushed silver, gold, and bronze, for a simple yet elegant look that will make even the plainest desk look sophisticated. Additionally, there are many bold background designs available in the engraved material including marble, wood grain, and camoflauge patterns to appeal to all types of recipients whether they're an inventory specialist, military general, office manager, or secretary.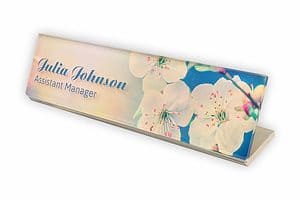 Alternately, you could choose a metal or acrylic plate with full color printing. Choose to add photos, background designs, custom fonts, and more to create a very customized look. Both styles are available with slide-in metal desk holders in your choice or silver, gold, rose gold, or black. There are also wooden desk block wedges available with a beautiful walnut finish for an established look, as well as freestanding desk plates that offer printing on both front and back of clear acrylic to give a very modern 3D look and feel. And for an added personalized touch, consider including a short quote or favorite saying to the plate. It's sure to bring a smile to your gift recipient and anyone else who passes by.
Need any more design ideas? Just ask and we'd be happy to help! You're also welcome to browse through our many design templates in our design studio for inspiration. Once we receive your order, our typical turn around time is just one business day so having the desk plates in time for your holiday gift won't be any trouble at all.
A desk plate gift is a perfect way to show someone that you care and appreciate them. Not only are they unique and personal, but there are so many different designs and materials available to choose from that you can find something that suits anyone's style. With such great options available, it is easy to find the perfect desk plate gift for someone special. A desk plate gift can be an elegant addition to any home or office, making it the perfect present for this holiday season or any other occasion.