Discover the possibilities of working with LoneStar.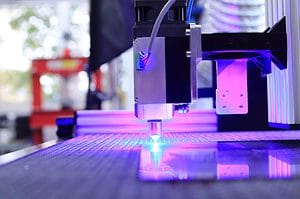 When it comes to custom products for your business, sometimes what's available in stores or from an online retailer just isn't custom enough. Perhaps you need custom parts for a new machine you're working on or a unique type of packaging for a specific product.
When you need a custom project completed that's truly custom, turn to LoneStar Badge & Sign. Our new large-scale digital cutter means we can create just about anything, and likely get it to you faster than your current vendor can.
Some of the custom projects we can create with this technology include:
Name plate, badge, and sign blanks
Acrylic cutouts
Dimensional letters
Custom car and airplane parts
BYOS (bring your own substrate — LoneStar will cut it)
Custom printed shipping boxes
Keep reading to learn more about the types of custom projects we offer at LoneStar!
Name plate, badge, and sign blanks
For organizations or reseller vendors who want to create their own custom name badges, name plates, or signs, LoneStar can help make it happen. We can use our large-scale cutter technology to create as many blanks as you need, in the shape and material of your choice. All that's left for you to do is to print your design onto the blank, and you're ready to go!
Acrylic cutouts
Acrylic cutouts are used for everything from signage to interior décor and beyond. LoneStar Badge & Sign has the equipment and the know-how to make every acrylic cutout look clean and professional—from the first letter in the run to the last.
Dimensional letters
Smart businesses are always looking for ways to make their signage stand out in the sea of advertising we see every day. Dimensional letters are perfect for adding a fun pop to business signage.
We can use a variety of materials can be used to create dimensional letters, including:
PVC plastic
Metal
Foamcore
Laser-cut acrylic
Aluminum
Wood
Dimensional letters are engaging and memorable. They bring a polished, eye-catching look to signage that customers can't help but notice!
Custom car and airplane parts
You may not think of contracting with a signage company to create custom projects for your car, airplane, or other machinery, but our technology capabilities at LoneStar make it possible! Our team will take your specifications and create the perfect part to get your custom project off the ground.
BYOS (bring your own substrate — LoneStar will cut it)
Maybe you already have your ideal custom project in mind, and even the material that it will be made out of — all you need is the large-scale cutter to make it a reality. That's where LoneStar comes in!
If you're local to our facility in Martindale, TX, bring your substrate in, and we'll collaborate with you to complete the custom project you've been thinking about. With our digital cutting system and years of experience on your side, we have everything you need to make your project a reality!
Custom printed shipping boxes
Nothing helps enhance your brand and give your customers an outstanding experience like shipping boxes and packaging customized with your company's logo, colors, name, and more. We can even help print custom packaging to fit your products, ensuring your customers' orders arrive safely every time.
Getting started with custom projects
Getting started on your custom projects is easy with LoneStar! Click here to learn more about our custom project options, then send us your project idea and any specifications so our team can get started.
At LoneStar Badge & Sign, our team will assist you through every step of the process and ensure you're 100% satisfied with the final design we create for you. All you need to do is sit back, relax, and let us work our custom project magic!