Protect your custom name plates investment with these tips.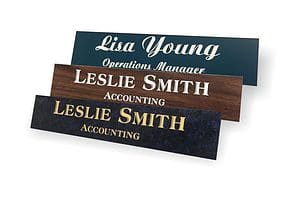 Creating an efficient, attractive, and professional work environment not only signals to customers that they can expect competent and outstanding service, but it also gives employees reason to take pride in their workplace.
Adding custom name plates to doors or employee workstations is a great option to add branded décor and a cohesive, professional look to your workplace. When you customize name plates with employee names and titles, the company logo, brand colors, and other unique design elements, you have the opportunity to elevate the look of your office, increase employee recognition, and even have some fun with personalization.
With that being said, if you're going to invest in brand-new name plates for your team, you want to make sure they last. How can you protect your investment and keep name plates looking brand-new for years to come?
Dust them regularly
When dusting surfaces throughout the work setting, it can be easy to forget about name plates. Whether they're on a desk or a door, they're going to be oriented vertically, so you might not expect them to get very dusty.
Unfortunately, they will gather dust, dirt, and other particulates in the environment over time. When enough of these little particles gather together, they can make the name plate more difficult to read, damage its surface, or simply make it look dirty and unprofessional.
However, it's easy to keep name plates clean by dusting them along with other office décor.
Use a gentle cleaner if needed
Even with regular dusting, name plates may become dirty over time. Those on a desk might get hit with sneezes or food particles, for example, while door name plates could be subject to the occasional coffee splash or smudges. If plates are touched, oils from our skin can even linger, attracting more dust.
The easiest way to thoroughly clean a name plate is with warm water and gentle dish soap, which quickly removes dust, dirt, and grime, including grease. If this isn't feasible, specialized cleansers are an option. Whether signs are made from metal, acrylic, or other materials, there are suitable cleansers for every job.
Make sure they're secure to a wall or door
One of the quickest ways to damage a name plate is by dropping it. For wall or door mounted name plates, make sure to use appropriate mounting hardware to prevent holders and plates from dislodging.
Place them somewhere safe on your desk
While you might think that name plates on desks are more secure against falls than wall-mounted models, it can be all too easy for a poorly placed name plate to take a tumble when a monitor is turned, or a stack of folders is moved aside. Proper placement of name plate desk holders will help to alleviate this danger.
When you clean name plates regularly and choose smart placement and mounting hardware to prevent them from falling, you have the best chance to keep them looking fantastic for many years to come! No matter what type of custom name plate you're looking to invest in, LoneStar Badge & Sign has a range of options and accessories to suit your business needs. Shop our selection of custom name plates in our online store today!